I'm seriously having an anxiety attack over the giant hole in our backyard...
What in the world made me think this was a good idea?
Oh right, now I remember: the fact that Gabriel sleeps 10 feet away from us cause there's no place left for him to go... sigh.
If you could hear my heart right now you'd think I was having a heart attack; this is not a basement, it's my early grave! Sure, it was all fun & games on paper, but actually seeing 10 truck loads of dirt being excavated from your lawn? It's breath taking (but not in the good way).
Anyways, if I learned anything from social working and parenting it's the power of diversion... employ distraction tactics to pacify emotions. I'm going to attempt these on myself:
Q: "hey girl where you been? done anything lately that doesn't involve giant Tonka toys tearing up your backyard?
A: "hey Sara! thanks for asking (you look great by the way) - hmmmm what have I been up to? well I...
... received 3 emails from wise followers asking if I'd mind answering some "personal" questions for them... ummm people in case you haven't noticed, I'm kinda an open book - or more specifically a book on tape that you're forced to listen to. I can't think of too many things I consider "off limits" so ask away.
... despite many a eye rolls, put our deck on kijiji.com and I'll have all the non-believers out there know that we ended up selling our pre-loved patio for $250. A couple wanted it for around their stationary 5th wheel and the gentleman spent the entire afternoon cutting it into manageable/movable parts. Not too shabby for something that was otherwise destined for the junkyard.
... got some unfortunate news from Aeroplan indicating that if we don't use our reward miles before November 30, 2012 they will expire. WHAT?! We signed up for an American Express business card specifically for their 50,000 bonus Aeroplan miles (that's the equivalent of 2 free flights anywhere in North America - except Hawaii). The pressure of booking another vacation just weeks after we confirmed our Mexico trip is a lot overwhelming. I know, I know, First World Problems at their finest, but I really wanted to put a bit more thought into how & when we used these flights. P.S. - I so appreciate all the Facebook recommendations and am still open to your fabulous suggestions.
... continue to be amazed by my daughter's stronger-than-strong will. Saige refuses to do anything at a pace other than her own so I signed her up for a week of dance camp knowing it would take more than one class for her to "warm up". As expected the first day was a total bust - she just stood there picking her nose, eating her tutu, watching the other little girls flutter around. By day 3 she was LOVING IT, so long as the curtains were drawn and the other moms "didn't watch". I wonder how Christmas concerts are going to go over?
... gasped when I saw this little boy on an episode of "Breaking Bad" - does he not look like a grown up Gabe?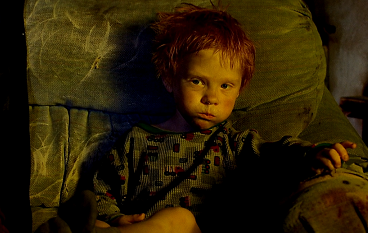 Okay I think that did the trick. Heart palpitations are at a dull roar. Thanks gang.